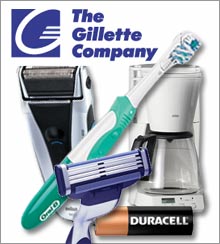 Pelyco's webPUBLISH™ Gives The Gillette Co. Forecasting Accuracy for New Product Introduction in a World of Supply Chain Complexity
Gillette Integrates webPUBLISH into Demand Planning & Exception Management Process
Ottawa, Ont. and Silicon Valley, CA; Nov. 4, 2006 - Pelyco Systems, a global provider of web-based supply chain visibility solutions, today announced that the Gillette Company (NYSE: G), the market leader in male and female grooming products and alkaline batteries has selected webPUBLISH, and completed the first phase of their implementation to improve their supply chain forecasting accuracy for new product introduction.
The company selected webPUBLISH over an internal solution and other high priced market solutions, to analyze and improve their new product introduction forecasting accuracy. With the first phase of implementation completed, The Gillette Co. has seen substantial benefits from analysis visibility into their forecasting and demand planning process, which has resulted in a more precise forecast and acceleration for new product introduction.
"After we provided Pelyco with our specifications and data, we received proof of concept within 6 weeks, and with their dedicated and talented technical team, it was quickly implemented and is now being used on a daily basis by our North American Demand Planning department," said Suzette H. Braun, Senior Manager, Demand Planning Development at The Gillette Company. "We now have the ability to immediately see changes in the forecasting and planning hierarchy and make any adjustments we need to quickly and easily. It is a low-cost, powerful application and we saw the benefits immediately. We are very impressed with Pelyco Systems. They deliver what they say and when."
The Gillette Company was founded in 1901 and is headquartered in Boston, Massachusetts. The Gillette Company engages in the manufacture and sale of consumer products worldwide and is a clear market leader. The company operates in five segments: Blades and Razors, Duracell, Oral Care, Braun, and Personal Care. The company sells its products directly to retailers and wholesalers for resale through retail stores, as well as distributes its products through distributors and sales agents. The first phase if webPUBLISH implementation into the North American Demand Planning department is complete now with 30 users and there are plans to expand. There are over 20 webPUBLISH reports being utilized on a daily basis, webPUBLISH will become part of the Exception Management Process at Gillette. "webPUBLISH was designed for companies like Gillette who have large and varied complex enterprise systems, who need the ability to get to the key data quickly and easily to make rapid business decisions and changes, "stated Stephanie Joy, VP Marketing at Pelyco Systems. We are delighted to provide Gillette with our supply chain visibility solution that met their critical business requirements, and look forward to working with them to expand webPUBLISH into other key business areas in the company."
About The Gillette Company
Headquartered in Boston, Mass., The Gillette Company is the world leader in male grooming, a category that includes blades, razors and shaving preparations. Gillette also holds the number one position worldwide in selected female grooming products, such as wet shaving products and hair epilation devices. In addition, the Company is the world leader in alkaline batteries, and manual and power toothbrushes.
www.gillette.com
About Pelyco Systems
Pelyco Systems delivers supply chain visibility solutions. Established in 1993, Pelyco focuses on exceeding all customer expectations when delivering advanced supply chain visibility products and services. Pelyco develops and supports leading edge, web-based business solutions for manufacturers and their supply chains. The Pelyco Systems solutions and services transform the supply chain to provide companies with significant business value and competitive advantage. Pelyco is a privately held company headquartered in Foster City, California. For more information on the company and its products and services, visit Pelyco on the web at
http://www.pelyco.com
.
Copyright © 2003 Pelyco Systems Corp. All Rights Reserved
For more information:
Stephanie Joy
Pelyco Systems
Tel: (650) 349-4851
stephanie.joy@pelyco.com