A successful S&OP implementation is built up three pillars: process, executive commitment and effective S&OP tools. If any of three key pillars is missing the S&OP process can never succeed. Assuming you the organization has a clearly defined S&OP process and the required executive sponsorship most organizations could be successful with
Smart S&OP™
as the technology tool. It doesn't take a huge investment in an enterprise suite. IBM is one of the largest organizations in the world and it uses a
Smart S&OP™
based process to support a real-time, global, collaborative, demand / supply management user community of nearly 200 people across the enterprise.
Smart S&OP™
is a software-based technology layer that, when added to Excel, eliminates the financial and operational risk of having S&OP data stored inside, and key S&OP processes depend upon, unmanaged S&OP spreadsheets.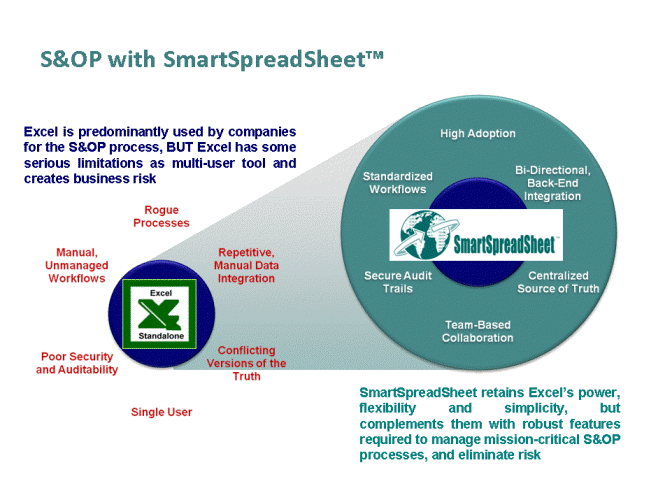 If you're like many companies we talk to, you realize that Excel's lack of security, process consistency, data integrity and audit ability create unacceptable risk to the S&OP process.
Smart S&OP™
lets users keep the familiarity, flexibility and functionality of Excel, but adds the security, consistency, and integrity needed to eliminate business risk.
Smart S&OP™
satisfies both business users and IT managers, and does so at a fraction of the cost and time of implementing new applications or extending legacy systems.
Smart S&OP™
removes the limitations and static nature of MS Excel, and transforms Excel into an enterprise wide, dynamic information and S&OP application. Multiple users can collaboratively, edit, manage and update the S&OP process, anytime, anywhere.
Smart S&OP™ Features and Benefits:
Bi-directional, Real-Time Live Data Connections
Ease of use - Fast integration from Multiple Data Sources
Central Data Management
Secure Access - SOX Audit Trail of Data
Increased User Productivity
Data Reliability and Rapid Decision-Making
Swift Creation of Real-Time Application Analysis
Team Planning, Collaboration, Audit Trails and Workflow Processes with 2 or 200 users
With the
Smart S&OP™
application from Pelyco, Excel is transformed into an enterprise wide dynamic information and business support application overcoming the traditional weaknesses of Excel. It provides power and flexibility for the end user while from the IT perspective it provides robustness and an easy way to maintain that necessary but elusive "single lens version of the truth."
Information Request Form
Select the items that apply, and then let us know how to contact you or schedule your own private web based seminar at your convenience.