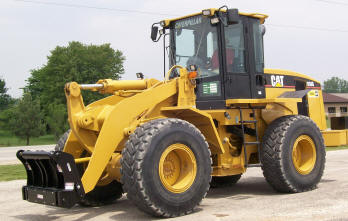 Pelyco's webPUBLISH™ Delivers Production Visibility Reporting and Supply Chain Efficiency to Caterpillar Aurora Facility
Pelyco's webPUBLISH™ Becomes Integral Component to Caterpillar's Production Operations Management
Ottawa, Ont. and Silicon Valley, CA; (May 17, 2007) - Pelyco Systems, a global provider of web-based supply chain and logistics visibility solutions, today announced Caterpillar Aurora, Ill., Caterpillar Inc. (NYSE: CAT,) Inc., the largest global maker of construction and mining equipment, has selected Pelyco Systems' webPUBLISH visibility technology solution to bring supply chain visibility into their operations in their Aurora Ill. facility
Caterpillar Inc. is the largest maker of construction and mining equipment, diesel and natural gas engines, and industrial gas turbines in the world. Their products, services and technologies fall into three principal lines of business: Machinery, Engines and Financial Products. Caterpillar is a global, diverse technology leader, and is committed to excellence
Caterpillar Aurora had its first product release in 1958 and today is one of the largest employers in the Greater Aurora area. Using cutting edge technology to manufacture, weld and assemble wheel loaders, hydraulic excavators, and power train components, Aurora is the world's only source for some Caterpillar machines and is home to roughly 2500 diverse, skilled workers. Two-thirds of this workforce supports the factory, and one-third is comprised of professionals who make up seven departments.
Obtaining information visibility into manufacturing operations is critical to manage customer changes and maintaining operational efficiency in the Caterpillar Aurora facility. They needed a powerful visibility system to augment their existing internal main supply chain system called MAMM. Pelyco's webPUBLISH™ was their choice. Monitoring and controlling multi level planned orders required immediate, easy access to information at all times across their supply chain, and webPUBLISH provided that reporting visibility. Key information is now available anytime, anywhere to Aurora personnel with the webPUBLISH™ web-based visibility technology, and is an integral component to the efficient management of their supply chain.
Pelyco is the only company to offer supply chain and logistics visibility solutions that transform existing extensive data assets into high value comprehensible information. webPUBLISH and SmartSpreadSheet™ remove the complexity of large scale planning systems, and provide companies with the advanced information visibility applications, to leverage their existing data assets.
About Pelyco Systems
Pelyco Systems delivers innovative supply chain and logistics visibility solutions. Established in 1993, Pelyco focuses on exceeding all customer expectations when delivering advanced supply chain visibility products and services. Pelyco develops and supports leading edge, web-based business solutions for manufacturers and their supply chains. The Pelyco Systems solutions and services transform the supply chain to provide companies with significant business value and competitive advantage. Pelyco is a privately held company headquartered in Foster City, California. For more information on the company and its products and services, visit Pelyco on the web at
http://www.pelyco.com
.
About Caterpillar Inc.
For more than 80 years, Caterpillar Inc. has been making progress possible and driving positive and sustainable change on every continent. With 2006 sales and revenues of $41.517 billion, Caterpillar is the world's leading manufacturer of construction and mining equipment, diesel and natural gas engines and industrial gas turbines. The company also is a leading services provider through Caterpillar Financial Services, Caterpillar Remanufacturing Services, Caterpillar Logistics Services and Progress Rail Services. More information is available at
http://www.cat.com
.