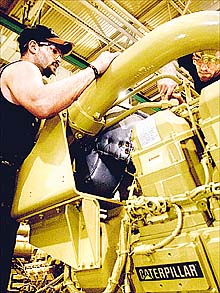 Caterpillar Implements Pelyco Systems' webPUBLISH™ to Manage the Balance of Supply and Demand, at the Lafayette IN. Facility
Visibility Solution Gives Caterpillar the Visibility Tools and Reports to Help Them Manage Customer Changes
Ottawa, Ont. and Silicon Valley, CA; Sept. 20, 2007 - Pelyco Systems Systems, a global provider of web-based supply chain visibility solutions, today announced that Caterpillar Inc. Caterpillar (NYSE: CAT), has selected and implemented webPUBLISH and SmartSpreadSheet, to improve their Inventory Management, Customer Order Changes, and Shipping Visibility Reporting, at their Lafayette IN, Engine Facility. Customer order changes and the impact on material availability was a major concern to CAT Lafayette. The Pelyco visibility solution toolset has provided CAT Lafayette with a complete set of supply chain visibility tools that are used every day across the operations organization.
webPUBLISH provided Cat Lafayette with a powerful set of analysis and visibility tools to allow them to get quickly access crucial data, in order to quickly see shortages and inventory availability. The capability to delve into this key information in real time, allows them to manage frequent changes to customer orders much more efficiently. Benefits were realized quickly reported the Supply Chain Project Manager at Lafayette. The benefits reported from this system, are; quick access to data, and the time-savings offered by reports structured to turn the data into information. The solution has streamlined decision-making for re-slotting orders and viewing material availability. The Caterpillar Lafayette, IN, plant manufactures large diesel engines that power trucks, ships and boats, construction and mining machines. The 1.5 million square foot Lafayette plant is Cat's main production facility for its larger bore 3500 and 3600 series diesels and natural gas engines.
"A lack of visibility into the supply chain, particularly related to customer orders and material availability and schedules, can really tie the hands of companies with several systems and disparate data," said Colin Finn, VP of Marketing and Sales at Pelyco. "Without the proper tools to analyze, change and manage information companies face budget overruns, and continued demand-supply imbalances." Our goal was to work with CAT Lafayette to fully understand their business challenges, and develop the solution they needed." They now have much quicker access to the information, powerful analysis tools, and the visibility reports they need to manage demand and supply, and frequent changes in customer orders." "CAT Lafayette is continuing to expand the use of the webPUBLISH visibility tools into other areas of their Supply Chain, including Procurement, and we look forward to helping them with their ongoing visibility needs."
Pelyco is the only company to offer supply chain visibility solutions that transform existing extensive data assets into high value comprehensible information. webPUBLISH and SmartSpreadSheet remove the complexity of large scale planning systems, and provide companies with the capabilities to leverage their existing data assets.
About Pelyco Systems
Pelyco Systems delivers supply chain visibility solutions. Established in 1993, Pelyco focuses on exceeding all customer expectations when delivering advanced supply chain visibility products and services. Pelyco develops and supports leading edge, web-based business solutions for manufacturers and their supply chains. The Pelyco Systems solutions and services transform the supply chain to provide companies with significant business value and competitive advantage. Pelyco is a privately held company headquartered in Foster City, California. For more information on the company and its products and services, visit Pelyco on the web at
http://www.pelyco.com
About Caterpillar
For 80 years, Caterpillar Inc. has been building the world's infrastructure and, in partnership with its worldwide dealer network, is driving positive and sustainable change on every continent. With 2005 sales and revenues of $36.339 billion, Caterpillar is a technology leader and the world's leading manufacturer of construction and mining equipment, clean diesel and natural gas engines and industrial gas turbines. The company is a technology leader in construction, transportation, mining, forestry, energy, logistics, financing and electric power generation. Caterpillar is the leading manufacturer and supplier of truck and bus engines in the combined medium and heavy duty categories in North America, holding the leading position in engine shipments to vehicle manufacturers since 1999. More information is available at
http://www.cattruckengines.com
.
For more information:
Stephanie Joy
Pelyco Systems
Tel: (650) 349-4851
stephanie.joy@pelyco.com