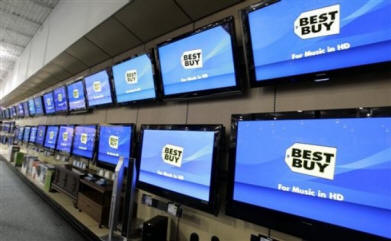 Best Buy Implements Pelyco's Visibility Solution to Acquire Transportation and Logistics Intelligence and Velocity
Best Buy Gains Visibility into their Logistics and Transportation Channel to Maximize Carrier Performance and Customer On-Time Delivery
Ottawa, Ont. and Silicon Valley, CA; (April 8, 2008) - Pelyco Systems, a global provider of web-based supply chain and logistics visibility solutions, today announced that Best Buy Co., Inc. (NYSE: BBY), MINNEAPOLIS, has implemented webPUBLISH™ to gain visibility and efficiency into their product delivery channel.Best Buy's business challenge was a critical need to consolidate, and have easy access to real-time transportation and logistics information, to provide them with product delivery tracking and control for their 1,200 retail stores across the United States and in Canada. Pelyco's webPUBLISH visibility toolset provided Best Buy with real-time consolidated information, easy data access and powerful visibility reporting, to enable them to monitor and control their extensive product delivery channel.
webPUBLISH provided Best Buy with a powerful set of analysis and visibility tools to allow them to quickly access crucial data, in order to efficiently track and manage their carriers and product shipments. Data contained in multiple internal and external disparate systems was consolidated, and critical visibility was provided with key tailored, collaborative visibility reports.
Best Buy Co., Inc. is a Fortune 100 company and the largest specialty retailer of consumer electronics in the United States and Canada. The company's corporate headquarters are located in Richfield, Minnesota, USA (near Minneapolis). On June 26, 2007, Best Buy announced a 40% increase in its operations, with plans to operate over 1800 stores worldwide, including 1400 Best Buy stores in the U.S. alone. Best Buy uses webPUBLISH to help optimize their supply chain transportation and logistics operations, thereby maximizing their transportation efficiency, reducing transportation costs, and improving customer service levels. webPUBLISH captured diverse sets of critical data, produced key operating metrics available in several formats, and provided them with greater visibility and control into the schedules and performance of their transportation and logistics department.
Pelyco is the only company to offer supply chain and loistics visibility solutions that transform existing extensive data assets into high value comprehensible information. webPUBLISH and SmartSpreadSheet remove the complexity of large scale planning systems, and provide companies with the capabilities to leverage their existing data assets.
About Pelyco Systems
Pelyco Systems delivers supply chain visibility solutions. Established in 1993, Pelyco focuses on exceeding all customer expectations when delivering advanced supply chain visibility products and services. Pelyco develops and supports leading edge, web-based business solutions for manufacturers and their supply chains. The Pelyco Systems solutions and services transform the supply chain to provide companies with significant business value and competitive advantage. Pelyco is a privately held company headquartered in Foster City, California. For more information on the company and its products and services, visit Pelyco on the web at
http://www.pelyco.com
For more information:
Stephanie Joy
Pelyco Systems
Tel: (650) 349-4851
stephanie.joy@pelyco.com
About Best Buy Co., Inc.
Best Buy Co., Inc. (NYSE:BBY) operates a global portfolio of brands with a commitment to growth and innovation. Best Buy sells consumer electronics, home-office products, entertainment software, appliances and related services through approximately 1,200 retail stores across the United States, throughout Canada and in China. Their multi-channel operations include: Best Buy (BestBuy.com, BestBuy.ca and BestBuy.com.cn), Future Shop (FutureShop.ca), Geek Squad (GeekSquad.com and GeekSquad.ca), Pacific Sales Kitchen and Bath Centers (PacificSales.com), Magnolia Audio Video (Magnoliaav.com), Jiangsu Five Star Appliance Co. (Five-Star.cn) and Speakeasy (Speakeasy.net).
http://www.bestbuy.com